Sharon Helbert showcases her book at Marie Warner's Boston Women Connect Event May 2015
August 10, 2016
I am honored to be the featured Luminary today at InspireMeToday.com
I am in good company with Sir Richard Branson (Virgin), Jack Canfield (Chicken Soup for the Soul) and Marci Shimoff (The Secret) and 100s more who have shared thier words of wisdom to enlighten, and rejuvenate your spirit.
I may be a "Sassy Gal", but my main goal is to Inspire!
Media:
For more information, contact: Alegcris Press sharon@alegcrispress.com
About the Author- Sharon Helbert
Get out of the way skinny girls, diet gurus and fitness fanatics- here comes Sassy Gal!
Sharon Helbert's personal journey takes us all along the diet adventure: from the devil versus God; to fat doctors, nurses, and nutritionists advising us; to becoming a Vegevore-because the Vegan lifestyle is too damn hard!
After too many years of obsessing, complaining, and even crying over her weight, Sharon created the Sassy Gal Brand as a positive, inspirational lifestyle approach to weight-loss. Her strategy of replacing the negative words diet and exercise with funny, witty phrases such as "Kick Ass Plan" or "Big Kitako Removal" (Kitako is butt in Swahili) is sure to start a worldwide movement with people laughing their way to success. She even created the Sassy Gal sound button to "Tell all ridiculous diet gurus, fitness experts, and skinny people to go to hell!" to make her weight-loss journey fun.
If you find being a Vegan is too restrictive-no beef, chicken, pork, fish or dairy products (including butter and eggs used to make chocolate cake); then try Sassy Gal's Vegevore lifestyle which emphasizes vegetables and all the good stuff, but still includes some guilty pleasures. Definitely easier to maintain!
Sharon holds a degree in business management and is the proprietor of Alegcris Press. She has worked in real estate, and as a consultant to non profits. She is originally from Buffalo, NY and has lived in Houston, TX and Washington, DC. Sharon currently resides in Boston, MA with her husband, two daughters, and collie.


Sharon Helbert exhibiting her book at the 2014
Boston Book Festival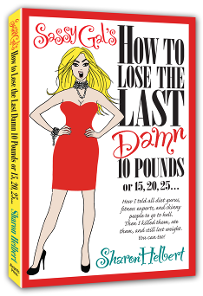 Author: Sharon Helbert
Coming Soon...