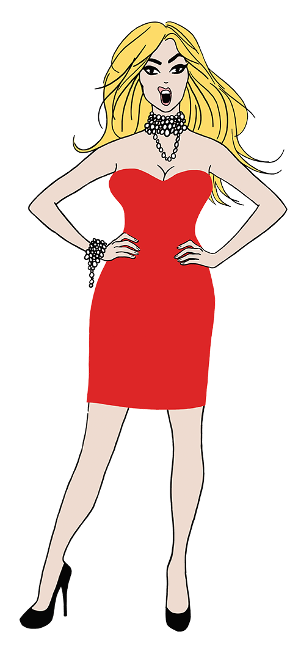 illustration by Kath-Walker www.kathwalker-illustration.co.uk
Join People around the world and tell me your new words for diet and exercise!
Contact Us!
Editorial Review:
The Midwest Book Review: Exceptionally well written, organized and presented, "Sassy Gal's How to Lose the Last Damn 10 Pounds or 15, 20, 25...: How I told all diet gurus, fitness experts, and skinny people to go to hell. Then I killed them, ate them, and still lost weight. You can too!" is a practical approach to weight control and as much fun to read as it is inspiring to apply. Very highly recommended for community library Health & Medicine instructional reference collections.
GALS, ARE YOU TIRED of obsessing, complaining, and even crying over weight issues? Is being a Vegan too damn hard? Are you tired of the nonstop diet and exercise bullshit?
Then get Sassy and ...
• TELL DIET GURUS preaching unrealistic diet plans and miracle diets that don't work: " Shut-up! "
• TELL FITNESS EXPERTS bullying you into torturous workouts: " Go To Hell! "
• TELL LOUD-MOUTHED SKINNY PEOPLE who yell obscenities at you because you can't follow their survival-type food plans: " Bite me!"
• TELL HEALTH FOOD FANATICS telling you to stop eating chocolate: " Back away from my chocolate or I'll kill you and then eat you! "
Get out of the way skinny girls, diet gurus and fitness fanatics- here comes SASSY GAL with a clever new approach to losing weight you will actually want to follow! Forget the ridiculous miracle diets, survival type food plans and strenuous workouts that lead most of us to quit and say "To hell with it all!" This lifestyle plan encourages laughter as a pathway to success. The first thing you'll do is delete the negative, destructive words diet and exercise and replace them with your own humorous versions such as "Gimme Skinny" or "Kick Ass Plan" (Oprah did!). Then, with Sharon's help, add some simple, believable strategies and you're on your way to a happier, calmer and slimmer you. If the current trend of being a Vegan is too damn hard, and too restrictive- try Sassy Gal's Vegevore lifestyle so you can eat it all! It's about time someone with real life experience tells it like it is and banishes all the unrealistic diet and exercise bullshit that doesn't work, and guides us on an inspirational weight loss journey.
Get SASSY !
Purchase your own Sassy Gal sound button and
"Tell all diet gurus, fitness experts and skinny people to go to hell!"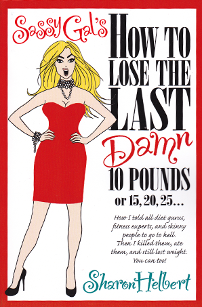 Cover Design by David Aldrich www.aldrichdesign.com
Interior Design/Book Production by Glenna Collett www.glennacollettdesign.com
Now Available!